Easy DIY Stair Remodel (Step-by-Step Tutorial)
Let's just say I wasn't a big fan of our old stairs. The beige carpet was totally cramping my aesthetic and I knew a DIY stair remodel could completely change the feel of our first floor!
But I also wasn't sure if it would be a good idea to rip up the carpet. Am I at the skill level to tackle this project? How do I know if our wood stairs will be in good condition? What if I needed new stair risers or new treads?
You don't always know what you'll find when you rip up the old carpet, so it is important to consider that before going into this project. I knew there was a possibility we might have to buy new stair treads. That aside, this is a very easy diy project that makes a huge difference!
By the way, this is part I of our DIY stair remodel. Click here for the tutorial on how to install a stair runner!
Disclaimer: This post contains affiliate links. This means, if you purchase something from a link I provided, I will receive a small commission. This is at no extra cost to you! Thank you for your support!
MATERIALS:
TOOLS:
Pry bar
Needle nose pliers
Tape Measure
Utility knife
Staircase Remodel Before and After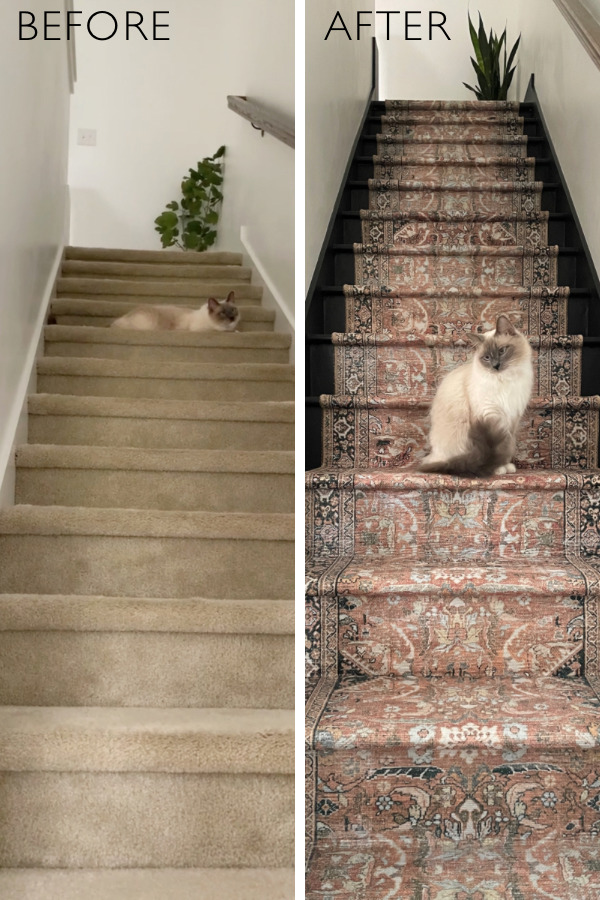 Step One: Removing the Old Carpet
The first step in our diy stair remodel was ripping up the old carpet and I have to say… that was the best part!
Find a corner and just start pulling! It was so satisfying to do and we were pleasantly surprised with what we found underneath. Our existing stairs were beautiful pine treads… we got lucky!
Safety tip: Be sure to wear gloves and safety glasses– there are staples and nails poking out everywhere! It also helps to have a large trash bag nearby to clean as you go.
Once you remove the carpet and carpet pad, you'll see tack strips around the edges. Those are nailed into the floor, so you'll just need a pry bar to get them up.
The staples can be removed with pliers! I kept a little bucket next to me to collect them as I pulled them up.
Step Two: Prepping the Stairs
The next step is to prepare the stairs for primer and paint.
In order to fully understand my tutorial, let me just share this little diagram on simple stair anatomy so you know what I'm referring to:
I did run into an unexpected issue…
One thing I noticed right away was how large the gaps were between the treads and the stair stringers.
Some of the gaps were as big as ½" so I knew caulk wasn't going to be a great way to fix these. I had to brainstorm.
I knew it wouldn't hurt to add some backer rod first. If you've never used this, it's great! It's essentially a foam strip that you shove into the gap to account for some of the space before you start filling the gap…which means you won't need nearly as much caulk!
To fill the gaps, I decided to try out a product called bondo. It smelled awful and it was tricky to work with because it dries very fast, but it did the job! It dries hard like concrete!
I made the mistake of overfilling the gaps, leaving me with excess bondo that I had to chisel away and then sand.
I've since learned that I accidentally used bondo all-purpose and bondo wood filler is what would have been best for this job! Lesson learned!
Thankfully, there weren't extreme gaps on all the stairs treads. Most of the gaps on the left side of the stairs were much smaller and could easily be filled with wood putty.
What if your wood treads are cracked in areas?
Be sure to check for any cracks or structural problems in the treads.
I only noticed one! It was a large crack at the edge of the tread and I just used some wood glue, pressed it back in place, and held it for a minute or two. This worked perfectly!
What if you end up needing new stair treads or risers?
If this happens, you can actually purchase new stair treads from Home Depot and you can just cut them to size!
If you need new risers, I've seen others use hardboard or plywood to place overtop the existing riser. Just do a little research!
What did you do for the landings?
We have a landing at the top and bottom of the stairs.
I decided to go a little unconventional here and use beadboard to cover it up. (Beadboard wouldn't be used for for standard flooring.) I love the character this adds to the stairs.
All I did here was cut the beadboard to size using a jigsaw, I used my brad nailer to secure it to the landing, and I caulked the edges and seams as needed.
However, it is important to note that the beadboard raised the landing a little.
As a result, I needed new stair nosing. This was very simple to install- I just cut it to size with my miter saw, and attached it with brad nails!
Sanding was the part I was dreading most.
The idea of sanding the stairs was totally stressing me out. I'm not a fan of sanding inside and getting dust everywhere.
This is the COOLEST hack for dust-free sanding.
If you have a shop vac and a mouse or orbital sander, all you need is a flexible PVC adapter! This allows you to tighten the adapter and connect the two. The size of the adapter will depend on your shop vac and sander!
This is truly life changing and has come in handy for many other indoor projects. I sanded these stairs down and there was practically ZERO dust!
Taping the stairs
Since I decided I'm painting all the stair parts, the taping wasn't too tricky! I just ran it up along the stair stringers.
If you're planning to use a wood stain for the treads, or you don't want to paint the stair stringers, you'll have to tape accordingly!
Step Three: Priming the Stairs
Now we're ready to prime the stairs! You can see I taped above the skirt board since I decided to paint that part black as well.
This is the shellac-based primer I used. It's incredibly durable and does a great job of priming anything in a high-traffic area.
Helpful tip: You can ask the paint department at Home Depot to tint your primer if you're using a dark paint color. That's what I did which is why it looks like gray paint!
Did you paint the newel post?
I decided to paint the newel post because I thought it would look great black! Again- personal preference! I did two coats of primer.
In between coats I sanded with 320 grit sandpaper, vacuumed, and wiped the stairs down with a damp rag.
After the second coat, I caulked the seams on the risers using paintable caulk! Once the caulk dried, I sanded, vacuumed, and wiped the stairs so I could prep for paint.
Step Four: Painting the Stairs
What type of paint and paint color did you use?
For paint, I used this porch and patio paint on all of the stair parts- including the newel post and baluster. It's held up really nicely this past year so I feel confident in recommending it!
The paint color I used is Limousine Leather by Behr paint. It's my go to black paint because it has such a rich, sleek look!
I applied the paint with a small 3/8″ nap roller for most of the stairs. A small angled brush was needed on some of the balusters.
How many coats did you do?
Two coats of paint provided great coverage.
In between coats I sanded with 320 grit sandpaper, vacuumed, and wiped down the stairs.
I know the sanding in between is extra work, but it results in a smooth, professional, finished look. It's totally worth the extra steps in my opinion!
Step Five: Sealing the Stairs
I do recommend using a poly finish to seal the stairs.
Initially I didn't, but I noticed after a month or two there were some chips in the paint on the beadboard landing specifically. This gave me the push I needed to seal them!
Before sealing, make sure to test out a small hidden area first. The poly can change the look of the paint!
I applied two coats of this water-based Polycrylic using a foam brush and it worked perfectly. They paint has help up really well since then!
We adore our new stairs! It's made such a huge impact on our home. I hope this step-by-step tutorial was helpful and maybe even gave you the confidence to start your own DIY stair remodel!!
Don't forget to check out my How to Install a Stair Runner blog post if you're interested in that step!
Additionally, if you haven't already, you can watch all of my videos on this stair remodel in my IG highlight called "Stairs".
Thank you so much for being here and please don't hesitate to let me know if you have any other questions!
Elisha