How to Paint Trim and Why Satin is the Best Finish
As soon as my husband and I closed on first our home we spent two weeks painting our walls and trim before moving in. I chose a white satin paint and used that for both the wall paint and the trim paint.
If I were to go back, I would do a couple things differently.
Satin paint isn't a good choice for walls. An eggshell paint finish or a matte paint will give the best results for interior walls. Satin paint has a slightly higher sheen and I felt like you could see our roller marks (we were also new to painting so we had a lot…oops!). But as a new homeowner with not much DIY experience, it can be hard to know the best paint finish to use!
White walls with white trim also wasn't a good choice. At first I loved it! The white paint certainly brightened up our home and allowed for more versatility with our furniture and decor.
But eventually it started to feel unfinished. As I began studying more interiors, I was much more drawn to the look of contrast trim. Contrast trim means painting trim darker than the walls. It's the cheapest way to make a statement in your home.
Disclaimer: This post contains affiliate links. This means, if you purchase something from a link I provided, I will receive a small commission. This is at no extra cost to you! Thank you for your support!
Why I went with black trim
Black is bold, sophisticated, sleek, timeless… shall I go on?
When I did my stair makeover, I got a taste of this white wall, black trim duo and it made me want more! If you look at the before photo above, it's almost as if the black trim is meant to be continued.
Can we just take a moment to compare the before and after above? I'm telling you, I've never done anything which such a huge impact on our home. When I finished this project, I knew I made not just a good choice, but a great choice for our home.
If you're interested in trying contrast trim in your home, you don't have to do a dark contrast trim like I did! Beige is a popular choice for a more subtle contrast. You can use any color, really!
Best paint colors for white walls and black trim
White Paint
Not all white paints are created equal. If you're planning to do black trim paint with white walls, be sure to choose a white paint that has a subtle warmth to it. Too stark of a white will make the space feel cold and uninviting. You also don't want the white to be too warm where it comes off pink-ish or yellow-ish.
The paint color I used for our interior walls is Whipped by Clare paint and I'm a big fan! I first fell in love with it when I did this elevated board and batten wall in our living room:
Other white paint colors that would work with black trim:
Black Paint
The color I used for the trim paint is Limousine Leather by Behr. It's a beautiful, rich black with no undertones. I've used it in many areas throughout my home… even on our stairs!
Other black paint colors that would work well for trim:
Understanding the different sheens
As I mentioned before, it can be overwhelming choosing the right paint sheen! There's matte finishes, glossy finishes, eggshell finishes… so what does all of that mean and why is it important?
Types of Wall Paint Finishes
First, it's important to know that "sheen", "finish", and "gloss" are often used interchangably. They're referring to the amount of shine (or luster) a paint will provide. Another way to look at it is how much light reflects off of the surface. For example, a low sheen (aka flat sheen) means it's not very shiny because not much light will reflect off of the surface of the paint.
flat sheens
PRO– they're great for hiding any surface imperfections (ex: dents or blemishes in walls) because they don't reflect much light
CON– They're not as easy to clean
Flat– Flat paint finishes have the least shine and are a great choice for ceiling paint. I wouldn't recommend using this on walls. If you want a low sheen paint for your walls, I recommend using a matte paint.
Matte– Matte paint finishes also have a bit more luster than a flat paint! Sherwin Williams makes an awesome Matte interior paint that I've used on my walls and built-ins and it worked great! See the photo below… it's so smooth!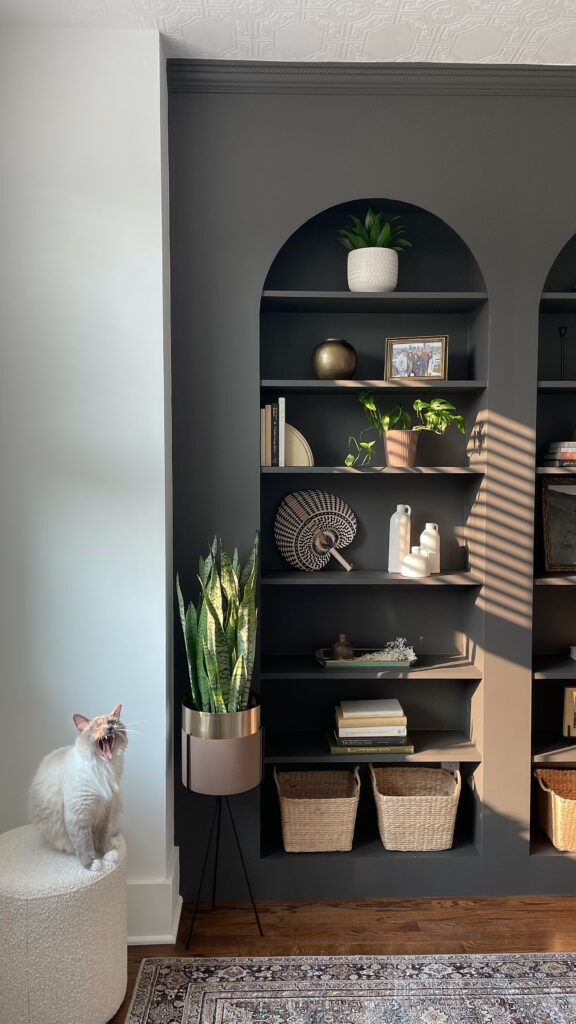 medium sheens
PRO: These are more durable and easier to clean than the low sheen options
CON: Because these have a little more shine, they're more prone to showing surface imperfections
Eggshell– Eggshell finishes are my favorite to use for interior walls. Think of an eggshell… that's the type of subtle shine this finish will provide! This is the paint I used for my downstairs walls.
Satin– Satin paint finishes have slightly more shine than an eggshell sheen. Satin paint provides a nice, velvety finish. Some people use this for their walls, but I tried that and wasn't a fan.
In my opinion, satin paint is the best finish for interior trim and doors. It has such a sleek finish, it's still durable and easy to clean, and it's not going to show nearly as many imperfections as a high-gloss paint would.
Glossy Sheens
PRO: High gloss paint is the easiest to clean because it creates a hard, durable surface. These paint finishes are most often used in high-traffic areas or as an exterior paint.
CON: High gloss paints are ultra shiny so they show everything; brush strokes, dents, cracks, etc. The higher gloss paints also tend to be more expensive.
Semi-Gloss– A semi-gloss finish has quite a bit more shine than a satin finish. This finish is commonly used for trim, doors, and kitchen cabinets. (I still think satin sheen is a better choice for trim… but hey, it's personal preference!) Semi-gloss paint is also great choice for front doors!
Gloss– This is the most glossy paint. I've actually never personally used it as it's not as commonly used in interiors. When it is used in interiors, it's usually in a kitchen or bathroom.
Paint finishes from dullest to shiniest:
flat, matte, eggshell, satin, semi-gloss, gloss
How to paint trim and interior doors
Painting trim work and interior doors can be daunting, I know. It's a big commitment and a lot of prep work. But if you want a quality paint job, you can't skip any of these steps:
step one: clean
You'll want to clean your trim before doing anything. Doors, baseboards, window trim, and crown molding all collect a lot of dust so this step is very important. I used Krud Kutter, but even a damp cloth would work fine!
step two: fix any imperfections
Check your trim or doors for any imperfections. If there's any nail holes, dents, or cracks, you'll want to use some spackle to fill them in before moving to the next step.
step three: sand
You're probably thinking… sand?!? No thank you! (I get it) But it's really not that bad and doesn't take as long as you might think!
If you had to use spackle anywhere, sand those parts first. If not, all you need is a light scuff sand to smooth everything out. Keep an eye out for paint drips or little specks that need to be sanded down. Sanding also roughens up the surface so the primer or paint has something to stick to!
I prefer to use sanding sponges for this part. They're easy to use and have a little flexibility for corners, etc.
Before moving to the next step, you'll need to wipe off any dust from sanding. Tack clothes are the best thing to use for this! If you don't have any, you can use a microfiber cloth, vacuum, or a slightly damp rag!
step four: painter's tape
I'm a big believer in painter's tape! Especially with dark colors like black. Yes, you can paint the trim without painter's tape if you have a good brush and a steady hand. I still feel that painter' tape provides the cleanest lines.
How to get crisp paint lines:
For one, I take my time applying the painter's tape. I try to enjoy the process and just listen to a good podcast. Its worth it.
Here's the game changer: I drag a putty knife along the tape after it's placed. It firmly seals the tape and I've had amazing results with this method. Watch this video to see what I mean!
Where to tape:
For painting interior doors: Tape off the hinges and the door knob (unless you're ambitious enough to remove the door knobs…I wasn't).
You'll also want to determine where you want your paint to end on the door and door frame. For example, do you want to see the paint color in the inside of the door thickness? Okay that's probably confusing… but if you're curious about this, watch my Instagram highlight on my trim. I shared how I chose when to stop the paint on the doors.
For windows, you'll tape off on the outside (around the window casings) and inside (on the glass). I also had to tape of the hinges for our blinds.
Step five: prime (maybe)
For our trim, I didn't need to prime because our window casings and baseboards already had been painted with a latex paint. However, if you have wood trim, or the paint is oil-based, you'll definitely want to prime!
For best results, prime your interior doors before painting. Unless they were previously painted with latex paint. Ours did not look like they'd ever been painted and they had a shiny, smooth texture so I used this primer.
When the primer dries, do a quick sand using a 320 grit sanding sponge! (don't forget to clean the dust off before painting!)
step six: brush the details
A roller brush is going to give the smoothest finish (other than spraying of course). But before getting your roller out, use a small angled brush to get any of the details and the corners. You'll smooth out these brush strokes in the next step!
step seven: roll the rest
Finally… the most satisfying part (other than pulling off the painter's tape) where you start to see why all this hard work was worth it! I use these 3/8″ nap rollers!
How many coats do you need to do?
Two coats worked great for me!
Tip for getting the most professional finish:
In between coats, do a very light sand using a 320 grit sanding sponge! (don't forget to clean the dust off before the second coat!)
step eight: seal (optional)
If you want, you can seal your trim and interior doors. It's up to you! Consider how much use your doors or window casings might get.
I ended up not sealing my doors or windows, but I have had to touch them up in a couple areas (cats and their claws!) since. Maybe eventually I'll get around to it….
This is the Polycrylic I use most often. I will say, if you decide to seal them, make sure to test out a small area first. A poly coat can change the look of your paint color!
Painting my trim black was truly my favorite, and most impactful, design decision I've made in our home so far. Would you ever consider a dark contrast trim?
Hopefully I've inspired you or given you some tools to create a bold and elegant look in your home! As always, thank you for being here and please let me know if you have any additional questions!
Elisha <3