How to Paint Trim and Why Satin is the Best Finish
When my husband and I closed on first our home, we bought several 5-gallon buckets of cheap white satin paint and went to town using it as both the wall paint and the trim paint… I cringe at the thought of it now😬
But as new homeowners with no DIY experience, we didn't know the best paint finish for trim or walls! If you're in that same boat… don't worry! I've got you covered!
This post will help you understand the different paint sheens, why I think satin is the best finish for trim, and everything you need to know about how to paint trim and doors!
Disclaimer: This post contains affiliate links. This means, if you purchase something from a link I provided, I will receive a small commission. This is at no extra cost to you! Thank you for your support!
Understanding the different sheens
First, it's important to know that "sheen", "finish", and "gloss" are often used interchangeably. They're referring to the amount of shine (or luster) a paint will provide.
Another way to look at it is how much light reflects off of the surface. For example, a low sheen (aka flat sheen) means it's not very shiny because not much light will reflect off of the surface of the paint.
We'll start with the least shiny and work our way up!
Flat
Flat sheens have the least shine and are a great choice for ceiling paint. Due to the minimal light reflection, it hides imperfections!
While perfect for a ceiling, a flat finish is very vulnerable to scuffs so I don't recommend using it on walls. If you do choose to use it on a wall, you'd want it to be in a low-traffic area!
In our French vintage guest bedroom, I installed wallpaper up most of the wall and decided to get a flat finish for the upper portion.
So in this case, flat paint is used on the walls, but it's up high enough that it won't be susceptible to stains.
Matte
Matte paint finishes have a tiny bit more luster and therefore are more practical in terms of washability.
Bedrooms, living rooms, and home offices would all be the perfect candidate for matte paint.
My entire office is painted using Sherwin Williams emerald matte paint in this beautiful, moody shade of brown.
Do you see how smooth and cozy the matte looks? If I used a higher sheen, the seams for my Ikea Billy Bookcase Hack would be much more noticeable!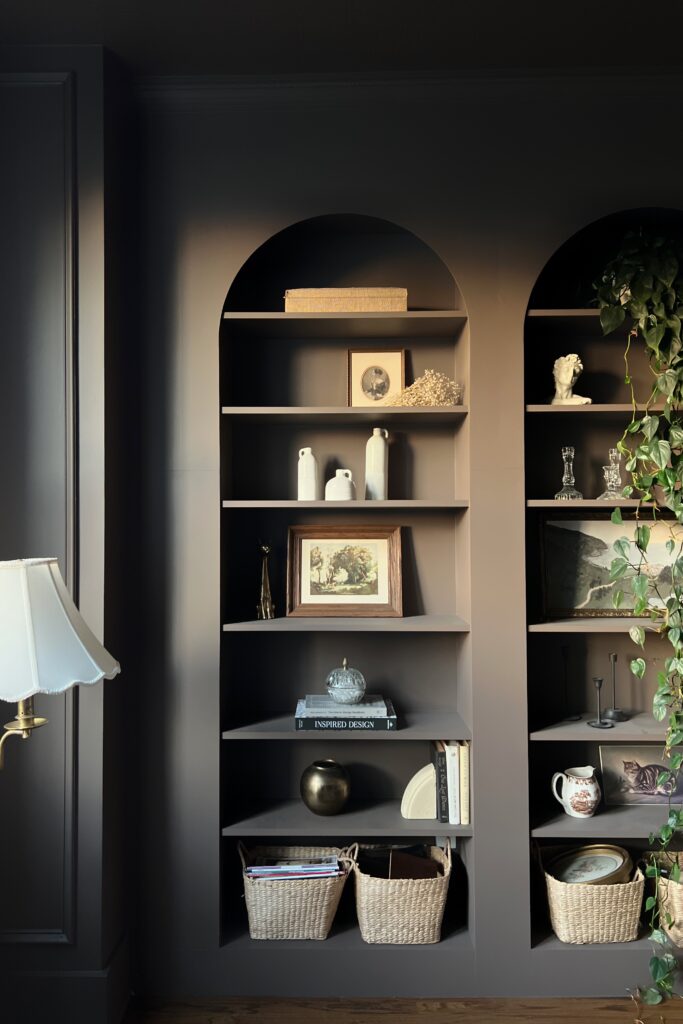 A matte finish is also a good choice for a textured wall like my DIY fluted wall panel. Higher luster sheens might make this wall look overwhelming.
Eggshell
Eggshell finishes are my favorite to use for interior walls. Think of an eggshell… that's the type of subtle shine this finish will provide!
The seams on my recessed wainscoting panels are slightly visible in this sheen, but that doesn't take away from the beautiful soft glow it provides!
I use this warm white paint in an eggshell finish throughout my home!
An eggshell paint finish is very versatile and can be used in bedrooms, family rooms, dining rooms, offices, and hallways.
I love using a matte or eggshell sheen on the walls and satin paint for trim work!
Satin
Satin paint finishes has a velvety smooth glow that I think is perfect to use on trim and doors!
A satin sheen stands out just enough to highlight your beautiful trim while also disguising minor flaws better than a semi gloss paint would.
In our bedroom (which is still in progress so please ignore the tape on the knobs, unpainted outlet, etc.) I used a satin finish for the closet doors, baseboards, and coffered ceiling beams.
Everything else is eggshell paint! See the difference? I think it's easiest to tell with the crown moulding on the coffered ceiling!
This post is obviously about satin being the best paint finish for trim, but what about for walls?
Satin paint can also be used on interior walls. It's especially ideal for high-traffic areas like kitchens, bathrooms, laundry rooms, etc. since it's easier to clean than low luster sheens like matte and eggshell.
However, I avoid using satin finishes as much as possible because it shows too much. Unless you do a perfect job painting, or use a paint sprayer, you'll be able to see some roller marks and any other imperfections on the wall.
But for somewhere like a bathroom where the walls will eventually need to be scrubbed, satin paint is the way to go!
I used a satin finish in my moody black powder room 🖤
Semi Gloss
Of the few high sheen paint finishes, a semi-gloss finish is used most often. It's highly durable and moisture resistant, making it easy to clean and therefore a great contender for kitchens, bathrooms, exterior doors, etc.!
Painting your kitchen cabinets? Semi-gloss is what I would recommend since the glossy surface repels dirt and stains!
Semi-gloss paint is also traditionally used to enhance architectural details like trim and intricate moldings. It's also great to consider for cabinetry or furniture!
While it does highlight details, it also highlights imperfections so just keep than in mind when choosing a paint finish!
On our living room built-ins I used a semi gloss paint. See how the letters from the book are reflecting off of the surface? So pretty!
High Gloss
High gloss paint is the least used paint sheen. But watch out because it's making a major comeback in interior design and I am SO here for it.
And when we're talking high gloss… I mean high gloss.
Like, so shiny it looks like glass. You cannot match the luxury, high-end feel this glossy paint creates. It just adds the coolest texture to a space and it's make it incredibly durable and easy to clean!
You might see high gloss paint used on front doors, in kitchens, on furniture, cabinetry, and even walls!!
My friend Gail is the queen of using high gloss paint. Check out how she used it in her glam mudroom!
Cons of high gloss paint? It's extremely unforgiving when it comes to imperfections so your surface needs to be as smooth as a baby's bottom if you want the best results.
The application process is also no joke. I consider myself a fearless DIYer, but I've yet to brave using high-gloss paint in my home… even though I want to! Stick around long enough and I will😉
Chris Loves Julia shared a painful learning experience using high gloss paint. Read about it here!
Summary
When trying to choose the right paint sheen just remember, the glossier paints have a more durable paint finish, but they're less forgiving. The flat finishes hide more blemishes, but aren't as easy to clean.
It's a good idea to identify your high and low-traffic areas and make the best choice for you and your family situation.
What is the best paint finish for trim?
Semi gloss or satin for trim? That's the big debate!
In my opinion, satin paint is the best finish for trim in most scenarios. It has perfect velvety finish, it's durable and easy to clean, and it's more forgiving than semi gloss.
However! Semi-gloss would also be a great choice for trim! It's really comes down to personal preference.
The glossy finish of semi-gloss paint creates a brighter, more polished look. It's a popular choice for trim because it holds up to a lot of wear and tear!
But also, higher gloss paints reveal all the flaws…
There's really no one-size-fits-all answer to the best trim paint finish. At the moment, my vote is satin paint for trim. But who knows?! Down the road when we have kids running around, I might feel differently!
How to Paint Trim and Doors
Once upon a time, my husband went out of town for a week so I decided to surprise him and paint all our trim and doors black. Totally fun and normal, right?!😆
Let's just say I didn't get much sleep that week because as i'm sure you're aware, painting trim is a lot of work! But it's worth it… trust me!
After painting all the trim in our home, I've got it down to a science at this point so I'm here to share how to get a nice, smooth finish while painting trim with a roller!
My favorite supplies for painting trim
The type of paint and materials you use are definitely going to play a role in the outcome! If you choose low quality materials, you'll get low quality results.
Here's my favorite dynamic paint brush duo:
If you prefer a long handle paint brush, try this one!
If you like a shorter handle, this is another favorite of mine!
Brushes are expensive so don't forget to take care of them so they last! These tools work so great for cleaning brushes:
What's the best paint for trim and doors?
The best option for painting trim and doors is an enamel paint like Benjamin Moore Advance or Sherwin Williams Urethane Trim Enamel! Enamel paints dry smooth and hard, making them the most durable option.
Oil-based paint is another great, durable option for trim! The downside being the odor, longer dry time, and messy clean up.
Water-based paint can also be used for trim. Just make sure it's a good quality paint and you prep properly! This is actually the route I took when painting our interior trim and doors black.
But even with the proper prep, I still have to do little touchups here and there! You can see an example of that below.
Enamel paint is the best interior door paint and going forward, it will always be my first choice!
Step One: Remove hardware and clean
The first thing you'll want to do is remove any hardware like door hinges, window treatment hardware, etc.
Doors, baseboards, and window trim, and all collect a lot of dust so it's very important to clean with a degreaser like this.
I won't lie to you… I don't always remove the door knobs and hardware. But I always regret it when I don't.
Step Two: Fix imperfections
Take a good look at your trim and doors!
If there's any nail holes, dents, or cracks, you'll want to use some spackle to fill them in before moving to the next step!
You want your surface to be as smooth to the touch as possible so any raised area or rough patches should be addressed.
Step Three: Sand
You're probably thinking… sand?!? No thank you! I get it. But it's really not that bad and doesn't take as long as you might think!
If you had to use spackle anywhere, sand those parts first. If not, all you need is a light scuff sand to smooth everything out. Keep an eye out for paint drips or little specks that need to be sanded down.
Sanding is incredibly important because it helps prepare the surface for adhering to the paint or primer!
I prefer to use sanding sponges for this part. They're easy to use and have a little flexibility for corners, etc.
Before moving to the next step, you'll need to wipe off any dust from sanding. Tack clothes are the best thing to use for this! If you don't have any, you can use a microfiber cloth, vacuum, or a damp rag!
Step Four: Painter's Tape
Painter's tape isn't for everyone… I get it! But I'm a big believer. Especially when painting trim black or any dark paint colors for that matter.
But yes, you can paint the trim without painter's tape if you have a good brush, like this one I shared earlier, and a steady hand.
I still feel that painter's tape provides the cleanest lines. You can't tell me you can get as smooth of a finish as I did on my easy diy stair remodel by freehanding it?!
How to get crisp paint lines
For one, I take my time applying the painter's tape. I try to enjoy the process and just listen to a good podcast or audio book. It's worth it.
Here's the game changer: I drag a putty knife (or an old gift card) along the tape after to firmly seal it. Watch this video to see what I mean!
Taping windows for painting
For windows, you'll tape off on the outside (around the window casings) and inside (on the glass).
I also had to tape off the hinges for our blinds because I was irresponsible and didn't remove them😂
Taping baseboards
Taping baseboards is pretty straight forward unless you have carpet to deal with!
When painting baseboards on carpet, i've had the best experience using a combination of a carpet shield and multi-surface painter's tape.
You can also just use painter's tape alone and tuck it under the baseboard. Sometimes i'll do two widths of tape because I can be a messy painter!
Taping doors for painting
You'll first want to determine where you want the paint to end on the both door and door frame.
For example, do you want to see the paint color on the inside of the door thickness? Is that confusing? If you're curious about this, watch my Instagram highlight on my trim. I shared how I chose when to stop the paint on the doors!
Here's an example! We have blue doors in our guest bedroom and black interior doors in our hallway. Take a close look at where I decided to start and end each color on the door and casing.
Step Five: Prime
Do you need to prime for trim?
If you have wood trim, or the paint on the trim is oil-based, you'll definitely need to prime! Also, if you're painting a light color over dark it's helpful to prime so you don't have to do as many coats.
But if your trim was previously painted with latex paint, you're okay to just paint! Sometimes I still use primer on trim even when I don't 'have to' because it never hurts.
Do you need to prime for interior doors?
For best results, prime your interior doors before painting. Doors need to withstand a lot of traffic!
We have hollow core doors with a smooth, factory finish. This isn't the ideal surface to for paint to adhere to so I always prime.
The best primer for doors is this shellac-based primer. As a disclaimer, it does smell and it's expensive, but it's an incredibly durable primer that's worth using on a door that gets used a ton!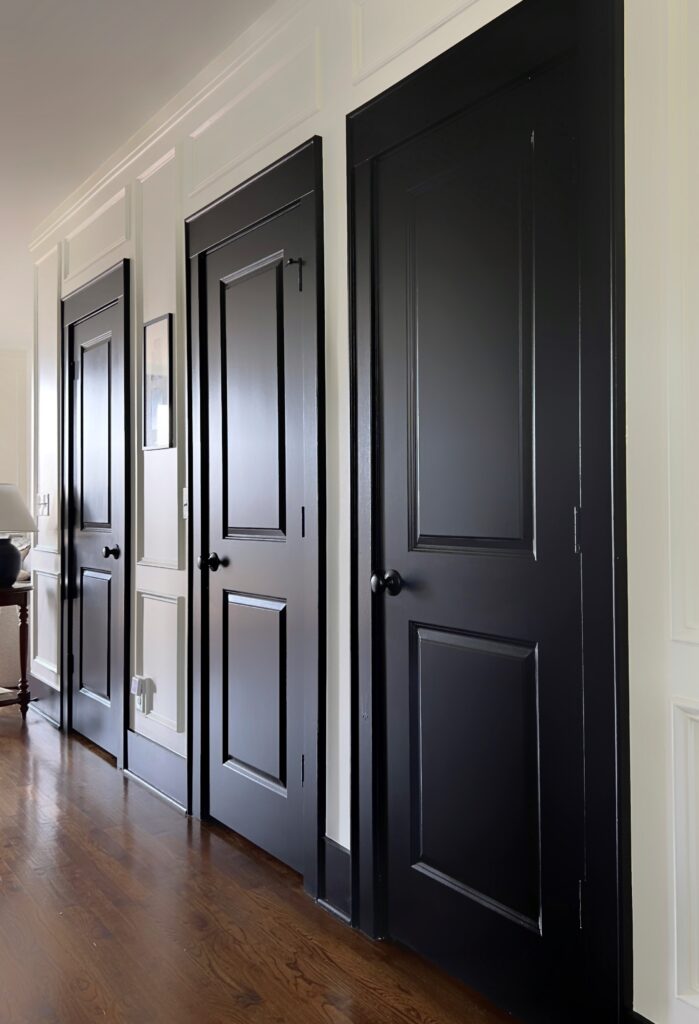 For doors you use less often, an all-purpose primer like this is fine!
When the primer dries, do a quick sand using a 320 grit sanding sponge! (don't forget to clean the dust off before painting!)
Should I caulk when repainting trim?
This will depend on how your trim is looking! Our home is young so the caulk hasn't needed to be touched up yet, but older homes may need this update!
Step Six: Paint
For both trim and interior doors, you're first going to cut in, going with the grain, using an angled brush to get the corners and details.
Make sure you have a good amount of paint on your brush too!
What i've more recently learned is that it's best to work in small areas at a time instead of cutting in the entire window or door like I did here below!
The reason why is because the paint is going to start drying before you get the roller brush out, increasing your chances of having visible brush strokes.
When rolling the rest, try to go over any of the brush strokes from the previous step! This will give better coverage and a smoother finish!
But you can see below that the brush marks have already started to dry. This is something I notice slightly now that it's fully dry.
How many coats do you need to do?
You'll need at least 2 coats, but sometimes 3! Just give your trim and doors and thorough inspection in good lighting once it's dry.
When do you take painters tape off?
This seems to be a big debate, but I always have best results removing painters tape when the paint is wet… immediately after your last coat!
When i've removed masking tape after the paint dried, it always starts peeling off some of the paint with it. But if you forget and notice this starting to happen, try scoring the seam with a utility knife before peeling the tape.
Tip for getting the most professional finish:
In between coats, do a very light sand using a 320 grit sanding sponge! Don't forget to use a tack cloth before your next coat!
Step Seven: Seal (Maybe!)
If you want, you can seal your trim and interior doors. It's up to you! Consider how much use your doors or window casings might get.
When using an enamel paint, this isn't necessary!
But I do think it's a smart idea to protect your doors with a top coat if you used latex paint!
This is my go-to Polycrylic! I will say, if you decide to seal them, make sure to test out a small area first. A poly coat can change the look of your paint color!
Interior paint colors in my home
As i'm sure you've noticed, I have a lot of different trim colors going on😆
Throughout the open areas of our home, I've totally embraced the white walls, black trim aesthetic. I have to say, painting my trim black was truly my favorite, and most impactful, design decision I've made in our home so far! These are the paint colors I used:
Because of how neutral our main areas are, I wanted to use different colors in the bedrooms, which is where these colors came in:
Hopefully I've inspired you or given you some tools to create a bold and elegant look in your home! As always, thank you for being here and please let me know if you have any additional questions!
Elisha